Dr James Mallinson
10 February 2021, 2.00-3.00
Abstract: This lecture will build upon, and in many ways revise, ideas first presented in a lecture entitled Śāktism and Haṭhayoga which I gave at the OCHS Śākta Traditions conference held in Oxford in 2011. I shall present a more detailed analysis of the Śākta contributions to haṭhayoga as formalised in Sanskrit texts from the eleventh century onwards, focusing specifically on Buddhist, Śaiva and Vaiṣṇava tantric traditions. I shall argue that the distinctive techniques of haṭhayoga were innovations in Indian religious practice and show how the different Śākta traditions introduced different methods of physical yoga practice.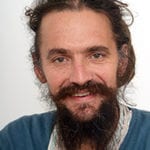 Dr James Mallinson: is Reader in Indology and Yoga Studies at SOAS University of London. He is Chair of SOAS's Centre for Yoga Studies and the Principal Investigator of the ERC-funded Hatha Yoga Project, for which he is preparing five critical editions of Sanskrit texts on physical yoga and a monograph on its early history. Dr Mallinson is the author of several books and articles on yoga, and the co-author, with Dr. Mark Singleton, of Roots of Yoga (Penguin Classics 2017).