Śākta Traditions Online Lecture Series: Contributions to a growing field of Śākta Studies. Lecture I
Before there was "tantric sex" there was "tantric violence," which saw tantric yogis venturing alone into cremation grounds and other fearsome landscapes in the dead of night to offer their bodies up to Yoginīs and Ḍākinīs, noisy nocturnal hordes of flesh-eating female creatures that preyed on the living and the dead. The early tantric scriptural record, which relates the conditions under which males voluntarily offered themselves up for possession and consumption by these ferocious shape-shifters, offers a window onto the unique tantric appropriation of a pre-existing South Asian (if not pan-Eurasian) demonological substratum. In this lecture, I juxtapose scriptural and art historical data to demonstrate the persistence of this demonological paradigm across South, Inner and East Asian tantric traditions.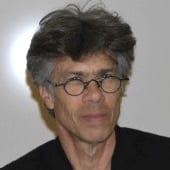 Prof. David G. White is the J. F. Rowny Professor of Comparative Religions at the University of California, Santa Barbara, where he has been teaching since 1996. Prior to coming to Santa Barbara, he taught at the University of Virginia between 1986 and 1996. There, he founded the University of Virginia Study Abroad Program in Jodhpur, India in 1994. White is the sole foreign scholar to have ever been admitted to the Centre d'Études de l'Inde et de l'Asie du Sud in Paris, France, where he has been an active Research Fellow since 1992. His current research interest concerns contacts and exchanges in matters of demonology. Prof. White's book publications include The Yoga Sutra of Patanjali (Princeton University Press, 2014), Yoga in Practice (Princeton University Press, 2012), Sinister Yogis (University Press of Chicago, 2009), Kiss of the Yogini: "Tantric Sex" in its South Asian Context (University Press of Chicago, 2003), The Alchemy Body: Siddha Traditions in Medieval India (University Press of Chicago, 1996).