A gathering of around 270 people met and dined together in the magnificence of Oxford Town Hall on Monday, 2nd July to celebrate OCHS' 20th Anniversary. The grand event was held by the OCHS to say a great big 'Thank You' to all our friends, benefactors and well-wishers who have helped to make our success of today.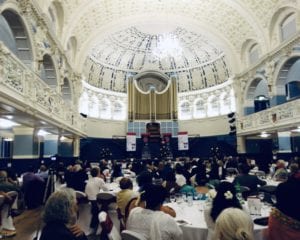 A fusion of Academia and lay folk, a meeting of east and west all joined together in celebrating Hinduism and the growth of OCHS into a world-renowned Centre for the academic study of Hinduism.
Many dignitaries including the Vice-Chancellor of Oxford University, Louise Richardson FRSE, Mr Ajay Pirimal, Indian Industrialist, Lord and Lady Dholakia, Ms Chandrika Tandon, Businesswoman and Philanthropist were present, just to mention a few names.
All agreed unanimously to further the cause of Hinduism studies in whatever capacity possible. The OCHS looks forward to continuing a beautiful and productive relationship with all its supporters as it enters into its next phase of growth.