19 December 2019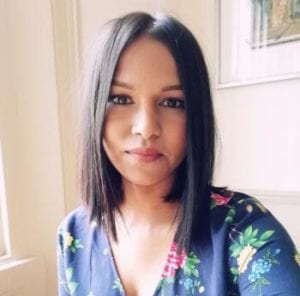 Sophie Jai was the Artist in Residence at the Oxford Centre for Hindu Studies from October 2019 to October 2020, and was a Writer in Residence at TORCH-St Edmund Hall during the 2020 Hilary Term. During her residency she will be finessing her debut novel Wild Fires, a story of a Trinidadian, Hindu family who find themselves navigating uncomfortable spaces in their home after the death of one of their troubled own.
The Centre will help Sophie connect Hinduism to the novel's family dynamic through its resources, faculty, and students. "I think the crux of great storytelling is knowing your characters through and throughout," says Jai. "For a few of my characters, being Hindu implicitly defines how life should be lived. It explores questions like, 'What is a good daughter? How does a Hindu mourn? What role does Hinduism play in a family where communication is almost non-existent?' I hope the answers to these questions will permeate my characters and make my story stronger during my time at OCHS."
Wild Fires was the 2019 winner of The Borough Press & The Good Literary Agency Open Submission competition, a story that HarperCollins UK described as "beautifully vivid" and "emotive writing." Wild Fires will be published in spring 2021.
Sophie was born and raised in Trinidad, and grew up in Toronto, Canada. She graduated from York University in Toronto with a B.A. in Humanities, and began writing at the Humber School for Writers with Olive Senior in 2016. She has since performed her work internationally from London to Toronto, and was selected as an Emerging Writer at Canada's Festival of Literary Diversity in 2017. Since moving to London in 2018, she has studied writing at Curtis Brown and reviews fiction books for Words of Colour.