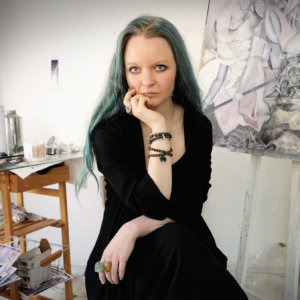 Rosanna Dean is Artist in Residence at the Oxford Centre for Hindu Studies. She graduated from the Royal College of Art in 2019. Following her degree show she was selected for the FBA Futures 2020, a survey show of contemporary figurative art and awarded a Live Art Development residency to develop the performative element of her work. She studied Old Master Oil Painting techniques under the mentorship of Maestro Michael John Angel in Florence, was artist in residence at the Florence Trust 2015-16 and was awarded EU funding to develop a body of work exploring the convergence of spiritual material practices. She exhibited at The Courtauld in 2018 where she was also invited to speak on ritual and spirituality in contemporary art practice.
Dean's work explores arts' intimate relationship with religion, and its role in disseminating foundational narratives that condition our beliefs about the world and structure our realities. Her work weaves together patterning and figuration and takes reference from divergent ways in which cultures represent the divine, as a way of understanding what constitutes the self, its interwoven relationship with the world and what it is that we believe in.
As ritual and transformation through embodied experience became increasingly prevalent in her art practice, she travelled to India to deepen her study of yoga and ritual, particularly Theyyam in northern Kerala, and Chinakkathoor and Kodungalloor Bhagavathy temple.
The trip initiated her research into goddess worship and led her to the Devimahatmya and Chandipath. To have a more embodied relationship with the text she began learning Sanskrit, which she found immediately affected her approach to art making.
Her experiences of Sakta Traditions and the relationships to women that emerge from it will form the basis for her work this year, where she will study visual culture, ritual practices, sacred texts and Sanskrit. Words and visual material will interplay and fluidly feed each other, with her body as the site of their convergence, and through the year she will attempt to understand her relationship to foundational cultural narratives that brought her to these specific places and situations in which she found herself. The intention is to create a body of work which will be exhibited alongside a publication at the end of the year.